An Interview with Robert James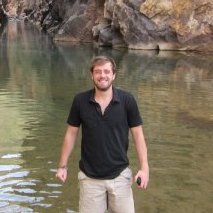 Why did you apply for the STP?
The STP is an incredible opportunity to gain a breadth of experience, training and academic progression that leads to the protected title of a clinical scientist. This programme allows me to transform the knowledge and skills from my sport and physiology background into an honest, challenging and extremely rewarding career. The healthcare science workforce within the NHS is the largest group of scientists in single employment sector within the UK, and I am delighted to have been given to opportunity to work in this team to the direct benefit of patients. I wanted to be able to find a career that can make a direct difference to people's lives, and being at the forefront of the vascular healthcare provision has provided me with the platform to be able to achieve this.
And why Vascular Science?
In the application process, you are given the opportunity to apply for two different specialist disciplines. My two choices were the vascular and cardiac science disciplines. Despite these having varying degrees of overlap with my academic background, the patient facing nature of these roles was the most important factor in this decision. Disciplines such as biochemistry don't this same degree of direct patient interaction.
How can students prepare in advance of the applications opening?
By nature of a training programme, much of the training and education required to become sufficient is provided as a part of the role. Therefore, whilst it is important to be able to cite previous academic topics that you have covered and enjoyed, the application should not be limited to this. During the recruitment for the STP and as a recognised clinical scientist, teamwork, leadership, a passion for science and the demonstration of the NHS core values is equally as important. Having experience in employment, work experience or volunteering roles that clearly and directly demonstrate these is imperative. As an extremely competitive programme, you should really try and maximise the range and depths of these experiences within the scientific field (if possible).
What can you tell us about the application process?
As with most jobs, the application process starts with a detailed background history, which is followed by 4 or so questions (< 250 word answers each) that ask you to display your motivation and suitability for the role. This is shortly followed by a numeracy and logical reasoning test. If you are successful past this stage, then you will be invited to an interview process, which is the final stage of the application. This lasts for approximately 60 minutes and consists of 4 short separate interviews, that assess your knowledge and the way you analyse questions and scenarios across a range of contexts.
How did you get your work experience/ What sort of work experience would you recommend?
My work and volunteering background was not directly related to clinical science, which probably puts me in the minority of the successful applicants. I did not have a placement directly within a relevant department within a hospital which would have been advantageous. However, getting this can be difficult, and perhaps even daunting at times. However, relevant opportunities are not limited to these, and there are many community outpatient schemes and opportunities that you should also try and research. If you cannot gain a period of work experience, then it is still worthwhile trying to arrange a visit to departments to gain an understanding about how they function and what equipment they use. Ultimately, the more people that you meet and talk to directly increases the likelihood of more opportunities arising.
In my circumstance I have always been looking for opportunities to learn new skills and get new experiences in different environments and contexts. Last year during my full time MSc at Leeds Beckett alone, I committed to additional roles such as being my course representative and being a learning support officer in the Carnegie department on top of my primary role of employment as a live sport analyst at Opta. Whilst this was extremely demanding, each of these roles demonstrated different skills that are valuable as a NHS employee as a clinical scientist, and demonstrated a willingness to go beyond that which is expected. All experience is good experience.
Do you have any top tips?
The applications are really competitive. But in my vascular cohort there is such a wide range of individuals with extremely varying backgrounds. There are individuals like myself from sport and exercise physiology backgrounds, and there are individuals that have studied microbiology and genomics. Similarly, there are individuals that are successful directly after their undergraduate programmes and people that have completed Masters and PHd's. However, there are also candidates from both of those backgrounds that were unsuccessful. Before my interviews that there were individuals trying to peacock these qualifications and experiences, and if I am honest this made me feel really underprepared, underqualified, and quite frankly out of my depth. But I went into the interviews and I actually found myself enjoying answering some of the stranger questions that they surprise you with. Funnily enough, none of the people that I remembered before the interviews made it through the application process. The NHS is a proud organisation and really values its core values. Really keep this in mind throughout your application. Also, if you don't succeed on your first application, don't become disheartened. Many successful applicants this year were on their second application. Even if you choose not to reapply, make sure you stay active and keep expanding the variety of your demonstrable skills and experiences, and you may be surprised where you end up.
Find out about more about STP and opportunities available for graduates on the NSHCS website.